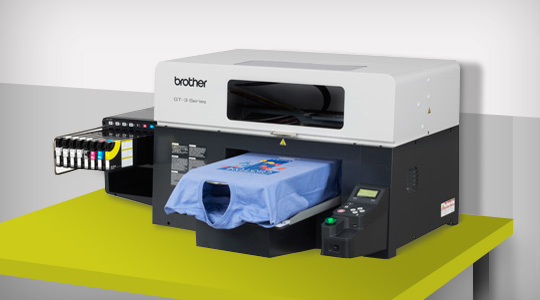 Direct to Garment
Direct-to-garment digital printing has the advantage of applying any number of colours required, including full colour photography work and large artworks. It can also produce cost effective high quality images, especially on white garment bases. It does not require the extensive screen printing set-up process, hence making it ideal for smaller quantity production runs.
Pros
Quick turn around time on short runs
Highly detailed designs can be produced
Low on set-up costs
If you are looking to order large quantities, screen printing would be a better alternative due to the quicker turn around speed.

Vinyl Transfer
Vinyl transfer is suitable for designs containing one or two colour designs. The process involves cutting out your designs, logos, shapes, names or numbers from special vinyl material. It enables one or two colour designs and logos to be made very quickly and is a great option for names and numbers on promotional clothing and printed sports clothing.  We can use vinyl transfer on both light and dark coloured t-shirts and garments and it can really make your garments stand out. Vinyl transfer is ideal for small quantity orders e.g. sports clubs, team wear, work and promotional wear.
Pros
high quality, bright and vivid colours
durability
easily customized to fit different garments
great for small orders.
It's very difficult to produce detailed designs with vinyl transfer. DTG design would be a better alternative as DTG can produce highly detailed images and designs.

Screen Printing
Screen printing can produce high quality prints in a range of colours. It is an ideal printing technique for large orders because of its speed and quality. Screen printing costs more in general because you have to pay for the screens and the set up. This is usually why it is used for high quantity orders.
Pros
Cost effective for large orders
High quality designs
Professional looking.
Long lasting & durable.
Due to the high set up costs, DTG printing is a more cost effective way of printing for small run orders.

Embroidery
Embroidery is a fantastic way of giving your garments a professional look. It's long lasting and is used in and around most places of work. Logos can include images and text and in multiple colours. Embroidery is more expensive than print and can work out more expensive depending on its size. Embroidery is suitable for corporate work wear and selected sports clothing. Plain text often works out cheaper than complicated logos and can sometimes give the same effect.
Pros
Quality Image
Long lasting
Multicolour at no additional cost
Gives a professional look to most garments
Larger and detailed embroidery designs can be very costly, DTG and screen printing can be a better cost effective alternative.

Digital Transfer
Allowing brilliant, vibrant, full-colour images and logos of any size, digital transfers are our most popular print methods for situations where a high-impact design is required. With no minimums, high resolution prints and the ability to adhere to nearly any
Pros
Stunning high resolution prints can be achieved with this method.
Photographic artwork reproduces perfectly via this method.
Transfers are printed onto a white backing before being cut, allowing excellent colour vibrancy.
Transfers can be turned around exceptionally quickly for small orders.
Larger orders can be time consuming and are usually more expensive, however DTG and screen printing are quicker and cost effective options.